Top Study Abroad Safety Tips
Wed April 1, 2020
701
For international students, studying abroad is an exciting experience. Students travel to a country hundreds or thousands of miles far from your home country for better educational and career opportunities.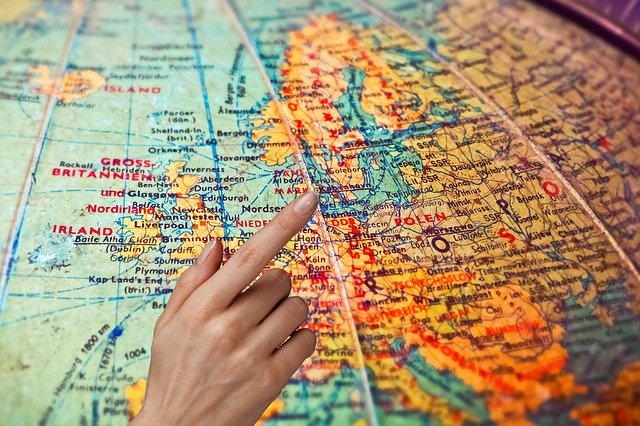 But studying abroad can also be intimidating at the same time. Moving to a new country that not only has a different language but also has diverse cultures and customs will make you feel overwhelmed. Therefore, being in a new and unfamiliar place, safety often comes at the top of your mind.
It is a good idea for students and their families to feel prepared before traveling if you have taken proper precautions and have resources. In this blog, we have talked about top study abroad safety tips to help you get started.
1. Staying Aware
Staying aware is one of the most crucial things. It is the first step towards your safety. Staying aware of your surroundings is one of the simplest things that you can do. You can get familiar with the routes and local neighborhoods as best as you can. Also, if you are feeling unsafe in any way, you can always check with your college or university before you leave. They will most likely have resources that will help you stay safe in their community. Also, every academic institute has its international student office that has information regarding safety options.
Also, when you are going to your university or coming back, make sure your headphones aren't blocking any surrounding sound. Also, avoid areas where light is poorly lit at night. Make sure you move with friends whenever possible.
You can always ask your college authorities or host family on the safest routes. International students can also keep their friends or the host family update on their location.
2. Avoid Scams
We hate to break this to you that most scams take advantage of vulnerable communities like International students. But, with little attention, you can save yourself. Be cautious when sharing your personal information.
When you walk into a restaurant or store, do not give your credit or debit card to anyone else. You should always use it yourself. Also, make sure you avoid giving any banking or credit card information to an unknown person or phone you. You might also be aware that these phone scams are prevalent all around the globe; therefore, you might know what not to do when such scammers call you.
If you are looking for an affordable and decent student housing, make sure you have some trusted to check out the apartment you are going to take. There are many red flags that international students should look out for the same agreement. If the landlord is requesting money from you before the deal is signed, it is a big No-No. The next best thing international students can do is know their rights as tenants.
3. Safety at Social Events
We all know that college is a fantastic place to meet new people and make friends and memories. Besides this, students get plenty of opportunities to socialize that come with opportunities to drink and be in some vulnerable situations. We are not saying to stop socializing. Instead, you can go to a local bar and confirm the legal drinking age.
Drinking can leave your vulnerable; make sure you with someone you can trust. Also, make sure you know your limits and keep your drink with you at all times.
4. Safe Transportation
International students can stay safe by reviewing the schedules of local transportation. There are many apps that students can download to check local schedules and routes. Many public transit systems offer their apps or websites.
Students should have a local taxi's phone number with them at all times. Even though a taxi is quite expensive in Canada but in case you are stuck in a place, and no bus or train is there, you can always call a cab. Besides this, many ridesharing applications like Uber or Lyft are available and are affordable than many taxis in many cities in Canada.
Also, many academic institutes in Canada also operate a safe ride or walk program on campus. Students can note down their phone numbers, and use the service when on campus at night.
5. Staying Safe at Home
There are many things that you can do to stay safe irrespective of the study abroad destination. Make sure you don't let anyone enter your dorm or your apartment you don't know. Make sure you keep all your doors and windows locked at all times, even when you are at your dorm or apartment. You can also get to know your neighbors. It will help you identify any unfamiliar guests, and you will also have someone to ask for help if anything happens.
Human Trafficking
International students should be aware of human trafficking. There are a few things that you should look out for in professional and personal contacts:
Be careful of an opportunity that feels unrealistic for example, high wages for effortless work
The company or person is demanding immediate response or trying to pursue you into a decision
Not letting you contact with your family or friends
If, at any point, you feel that you in danger, leave the situation immediately or alert the police as soon as possible. As a safety measure, try to develop a safety word that you can communicate over the phone to indicate if you are in danger.
6. Trust Your Instincts
Remember that studying abroad is a fun and rewarding career. You are entirely independent in terms of traveling, living, and in almost everything. Therefore, it is imperative to trust your instincts and gut feeling. According to the psychologists, they are the signs given by your subconscious mind. Therefore, why not use them for your safety.
If you are planning to study in Canada and looking for help regarding your college and visa application, then we are here to help you. If you are still clueless, fill in your details at our call back form to get a call back from us. We will help you look for top academic institutes and courses matching your eligibility criteria, and you can apply from the comfort of your home. For us, your future is important, and so is your health, therefore, you can apply online!
---