A Simple Guide To International College Applications During These Uncertain Times
Mon March 30, 2020
1004
The recent wide spread pandemic, COVID – 19 has made these the most testing times for us. Workforce slowdown has stumped global economies and as a result people around the globe are facing the downside of this deadly virus.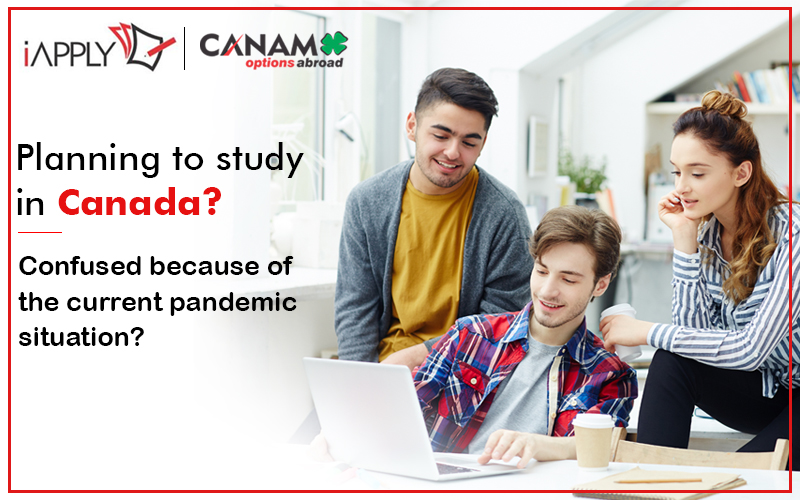 Governments and administrations around the world have shut down all public places and complete lockdowns have been imposed. Countries like Italy, China, Iran, France, USA and many more have been asking people to quarantine themselves and avoid any kind of interaction with the outside world.
This rapid outbreak of the virus has led to a slump in international education and numerous students aspiring to go abroad for education have been deterred. The Government of India has imposed bans on any kind of public dealing and hence, students who wish to apply for a foreign education are in a dilemma. This is where iApply comes to your rescue.
Canam Consultants has been actively working in the field of overseas education for over 25 years and has worked with innumerable students seeking a better life and education. With careful deliberation as well as the intention to give back to society, iApply was created. We wanted to eliminate the whole hassle of traveling for hours to meet a counselor, spending time, money and resources. The single most important motivation for creating iApply was to provide every student with an equal opportunity of an international education, irrespective of their educational or financial background.
iApply comes as a boon during this time of a contagious viral outbreak that shook the world. With iApply you do not have to worry about consultancies shutting down and the unavailability of any kind of guidance while making an international application.
You simply have to log on to www.iapply.io, SIGN UP and browse through to find the college as well as program of your choice based on your eligibility, educational qualifications as well a particular university or college. Our expert counsellors are working from home and are providing students with the necessary guidance over telephone calls. You can apply to multiple programs and upload your documents, all from the safety of your home. Additionally, our database has detailed descriptions about an institution, its fee structure, IELTS requirements, services and facilities and numerous other details you need to know before making an application.
Travelling outside of your home at this delicate hour can be detrimental to your health and a risk you should not take. We at iApply urge you to be responsible, aware, as well as determined about your future. In case a student is in a fix while making an application, our representatives and advisors shall come to your rescue and help you out at each step.
You do not have to step out of home or speak to a stranger, with iApply you put your safety first and we do the same with your career
---