Reasons To Study In Ryerson University
Tue September 21, 2021
920
Reasons To Study In Ryerson University

Universities in Canada focus on academic and professional training and invest greatly in upstaging orientation towards research. Academic institutes in Canada are a provincial responsibility and hence the quality of education at a university is non-negotiable.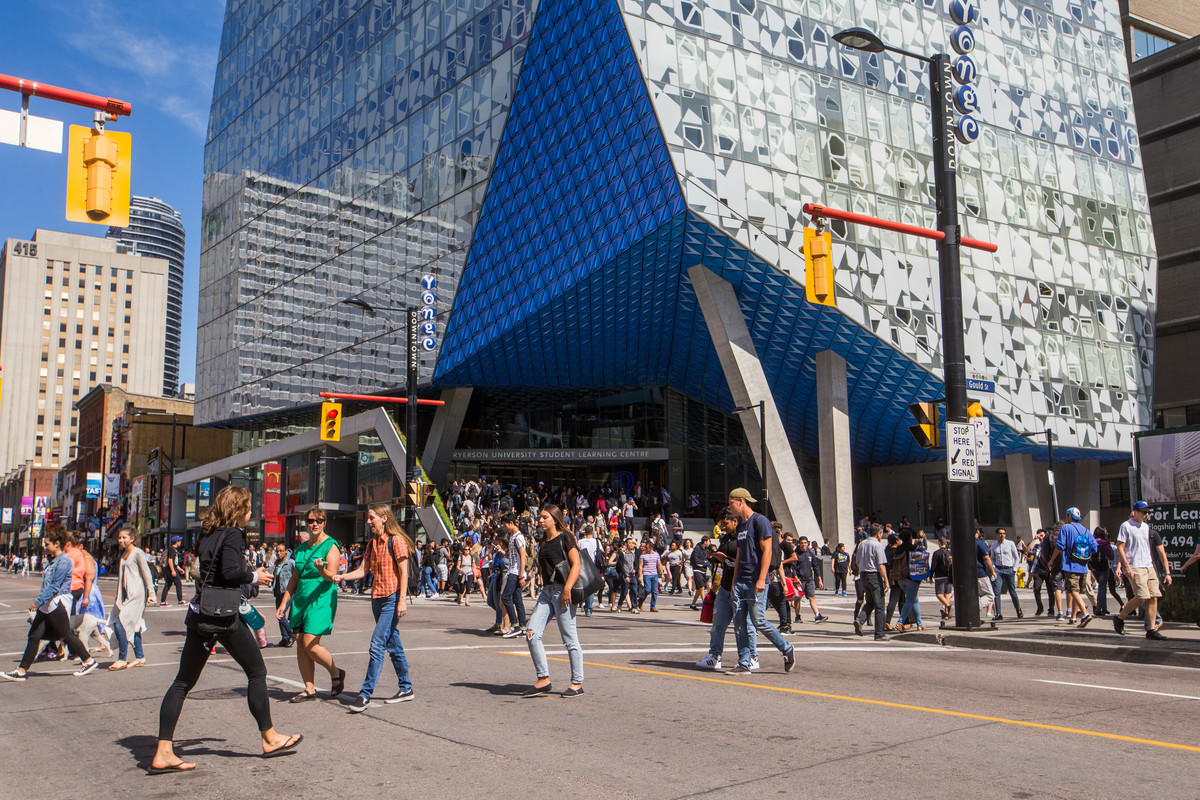 A university is sure to provide students with inexplicable exposure and a glimpse into the professional world.
The educational space at Ryerson and its related aspects are explored below:
Popular Programs
• Bachelor Of Commerce In Business Management
• Bachelor Of Science (Honours) In Computer Science
• Bachelor Of Engineering In Computer Engineering
• Bachelor Of Commerce (Honours) In Hospitality And Tourism Management
• Bachelor Of Applied Science In Public Health
• Bachelor Of Engineering In Mechanical Engineering (Optional Co-Op Internship)
• Bachelor Of Engineering In Civil Engineering (Optional Co-Op Internship)
• Bachelor Of Engineering In Civil Engineering
• Bachelor Of Arts In Early Childhood Studies

Tuition Fee
Yearly tuition expenses for international students in Ryerson range from $30,000 to $40,000.

Scholarships
The university offers international students scholarships based on merit and potential upon entering the university and for every academic year within the program.
President's Entrance Scholarship is for secondary school graduates with excellent academic capabilities, leadership qualities, original thought, and creative ability.
International Secondary School Merit Scholarship is for students entering a full-time four year program at Ryerson University. Students who demonstrate academic potential, interest for volunteer work and extra-curricular activities and leadership qualities are eligible for the scholarship.

For Ryerson Students
A host of opportunities are available for attaining a scholarship while one studies at the university. Awards available are:
Geoff Boyes International Entrance Award
Geoff Boyes International Student Leadership Award
International Student Merit Scholarship
President's Entrance Scholarship
Salad King Awards
Scotiabank International Scholarships
The Western Union Award for International Students

Employability
Employability is at the centre of post- educational functions of Ryerson University.
Co-op programs at the university provide a platform to individuals to gain relevant work experience, expand their networks and earn while they pursue their program.
Magnet, a job forum was also devised by the university in association with a government body in order to build an intersection for universities, colleges, job-seekers, employers and community-based partners.

Future Skills Centre at the university is dedicated to researching employability, skills, demands, employers, services and preparing students for employment success, thus understanding and adding to the bigger employment picture.

Facilities
Along with equipment for sports and recreation, Ryerson has panoply of amenities for health, well-being and career preparation and working while studying. The athletics and recreation centre hosts events for scores of sports and fitness activities.
Its library and bookstore, career and co-op centre, eatery and café and student learning centre make the university a lively place to learn and engage with peer group.
There are provisions for parent students in the form of child care facilities, commuter hostel for those preparing for projects, assignments or working on campus. Inclusion is also a value that is reflected through facilities for people with mobility impairments including barrier-free tours.
The university has a residence-style accommodation which has all-gender housing with over 1000 beds in three buildings and multiple room options.
For research and innovation, there are programs that connect academicians to enterprises. The research centres, innovation zones, faculty's expertise positions Ryerson as a valuable problem solver for industry, government and the community at large.

What's Special About Ryerson University:

? Location in Toronto, the largest city in Canada, a commercial hotspot, rich with industries and cultures, and a vast multicultural hub with people from almost every corner of the world.
? Experiential learning opportunities through co-operative work terms, internships, specialized minors and exposure to start-up ventures through 'Zone Learning', which has a partnership with Zone Startups India (ZSI).
? Research intensive programs, 125 research centres and laboratories.
? Its MBA program is nationally acclaimed for its great return on investment.
? Eminent Alumni – actresses Nina Dobrev, Shay Mitchell, Hannah Simone, data analyst Joanna Kader, nutritionist Jennifer Gibson, and many more, author Louise Penny, photographer Edward Burtynsky.

To know more about Ryerson and hundreds other academic institutes, reach out to iApply's expert advisors at 1800 890 1775 or 07087104304 (whatsapp), or log on to iapply.io.

---