Complete Guide to Study in Humber College, Toronto, Canada
Fri November 27, 2020
2025
Toronto is one of the busiest cities in Canada, and is always in motion. Being the capital city of one of the most populated provinces of Ontario, it acts as the nucleus of most commercial activity in the country. This is what creates opportunities and draws international students to its lands. Students from close to a hundred nations arrive in the city every year to pursue higher education.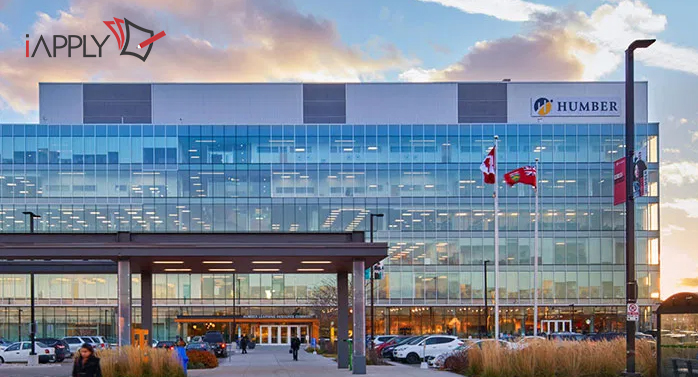 Toronto offers more than just the best colleges and universities in Canada, but exciting city life, multicultural neighbourhoods, sundry opportunities for work while studying for students to consider it a desirous destination for education.
Among the highest-rated is Humber College with its campuses spread throughout the city of Toronto. Also known as the Humber Institute of Technology and Advanced Learning, it is a publically-funded university and three campuses called Humber North Campus, Lakeshore Campus, and Humber Orangeville Campus.

The college provides more than 200 programs at bachelor, post-graduate certificate and apprenticeship levels. Humber also holds training programs in the fields of information technology and engineering and is the receiver of Silver Rating for Sustainability Tracking Assessment System. With six highly renowned faculties of applied sciences and technology, business, media and creative arts, liberal arts and sciences and innovative learning, social and community services, and health sciences and wellness, there is a scope for almost all kinds of academic background to get enrolled.
The North Campus, situated close to the Humber River, has a large number of students, some of who are residents in the campus. The campus provides full and part-time program options in Media Studies, Health Sciences, Liberal Arts, Business, Hospitality and Tourism and has a newly opened Learning Resource Centre (LRC).
The Lakeshore Campus (located on the shores of Lake Ontario) stands on the grounds of a former Psychiatric Hospital and Teacher's college of the same name. The campus became functional in the building in 2011 and now provides national and international students with full and part-time programs.
Orangeville Campus has all facilities for education and recreation for students to have a healthy and enjoyable stay while they learn from the best in the industry. For students willing to pursue careers in the field of fashion and beauty, the Fashion Institute of Humber College provides an excellent chance.
Multiple collaborative and applied learning initiatives make for great learning opportunities; moreover, most programs provide an element of practical and experimental learning such as placement or internship. The institute has won laurels for inculcating international activities as a part of their strategic plan. Its services and academic processes make it one of the best choices for students from foreign lands.
Its noted alumni have made remarkable contributions in their respective fields.

Once students decide to study in Canada, they consider a great number of factors, and there are a lot of academic institutes in Canada that satisfy the criteria that students base their choice on. To make the process of selection and analysis of choices easier, iApply's platform, which is the sole provider of post-secondary educational opportunities, proves to be highly beneficial.
Here's how the platform can be used to narrow down students' search for the institute and program that's right for them.
Steps to Select Academic Institutes and Programs using iApply
With the search by institute feature:
> Select the province
> Select the university
> Filter your search by tuition fee, student strength, university features etc.
> Get results, shortlist
With the search by eligibility feature:
> Fill in highest qualification
> Select grading system
> Select the discipline of choice
> Fill in English language proficiency scores
> Get search results
> Shortlist
Students are sure to find some of the best colleges and universities in Canada as great educational options to enhance their career through the platform. Log on to iapply.io today to find the best academic solutions just by putting in the required information. For further assistance or help, expert advisors can be contacted at 1800 890 1775.

---