Complete Guide to Study in Georgian College, Canada
Thu November 26, 2020
1033
Ontario is one of the choicest destinations in the world for excellent educational opportunities. The top colleges and universities in Canada that are located in Ontario also cater to international students with skills and knowledge to be a part of the competitively progressing professional world. Students who go to study in Canada from different parts of the world, gain an edge with degrees, certificates and diplomas issued by the highly esteemed and recognized institutes of the country. The province of Ontario is also home to institutes that are leaders in fostering innovation and research.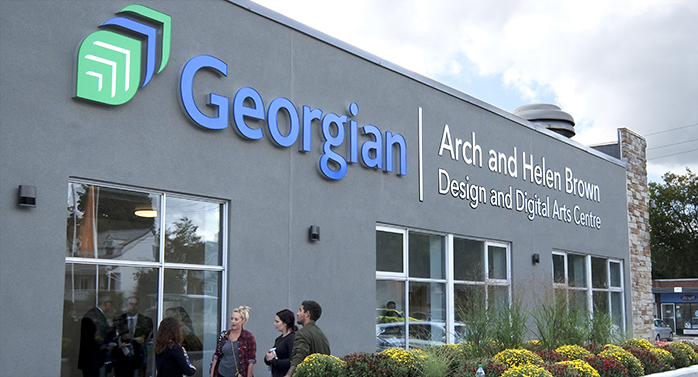 The financial hub of the country also happens to be the capital of the province of Ontario which is to say that almost all multinational companies have their centres there. This increases the employment opportunities by great numbers that make it convenient for students and professionals to step into their field of work even right after graduation.

One of the most prestigious institutes in the province is Georgian College. Founded in 1967, it was one of the first colleges in Canada to provide co-op education (also known as co-operative education) opportunities.

Georgian College has seven campuses across Ontario, one of which is also devoted to marine training and research and all campuses that are well-equipped, have excellent infrastructure, and an environment that boosts and encourages effective learning.

The largest of all Georgian College campuses is Barrie Campus which has specialized centres like art gallery, indigenous research centre, fitness centre, innovation labs, health and wellness clinics, theatres, entrepreneurship centre, changemaker space, nursing simulation labs besides an array of programs at various levels. It is one of the first institutes to provide engineering degrees in Ontraio and to house labs for robotics, mechatronics and manufacturing technology. It is the only institute to have an anechoic chamber in the region. The college also builds partnerships with the industry and community partners for research projects. Along with these, Georgian is known for its programs in the creative fields such as graphic design and photography.

Another Campus, the Robbert Hartog Midland Campus provides apprenticeship and skills training in fields that include electrical, mechanical, marine engine, plumbing, welding and more.

Muskoka Campus in Bracebridge, on the other hand offers pre-health sciences pathways leading to advanced diplomas and degrees. Orangeville Campus is devoted to part and full-time programs and corporate training and academic skills upgrading.

The major focus of the Orilla Campus is on community safety and human services fields in addition to programs for veterinary assistant and veterinary technician with many graduate certificate programs and part-time course offerings.

Owen Sound Campus is the one that has a Centre for Marine Training and Research and Marine Emergency Duties and South Georgian Bay Campus that has a spacious learning space for multitudes of programs for Canadian and international students.

Collectively, Georgian opens its doors for students to enroll in more than 130 industry-oriented programs in diverse fields such as management, liberal arts, tourism, automotive business, health, environmental technologies, engineering, indigenous studies, human services, hospitality, skilled trades, marine studies, community safety, design and visual arts.

The institute holds a great record of 90 percent of its students being employed within six months of graduation and alumni who have made a mark in their respective fields including Jon Montgomery - an Olympic gold winner and Nicole Saulnier, the owner of Georgian Bay Airways.

Steps to Select Academic Institutes and Programs using iApply

With the search by institute feature:
> Select the province
> Select the university
> Filter your search by tuition fee, student strength, university features etc.
> Get results, shortlist

With the search by eligibility feature:
> Fill in highest qualification
> Select grading system
> Select the discipline of choice
> Fill in English language proficiency scores
> Get search results
> Shortlist

Students are sure to find some of the best colleges and universities in Canada as great educational options to enhance their career through the platform. Log on to iapply.io today to find the best academic solutions just by putting in the required information. For further assistance or help, expert advisors can be contacted at 1800 890 1775.
---