A Complete Guide To PTE For Studying Abroad in 2021
Sat May 23, 2020
707
Seeking admission in an English speaking country is a lifelong goal for many, but this is not possible without taking certain proficiency tests. Students need to prove their English language skills and one such globally accepted test is: PTE.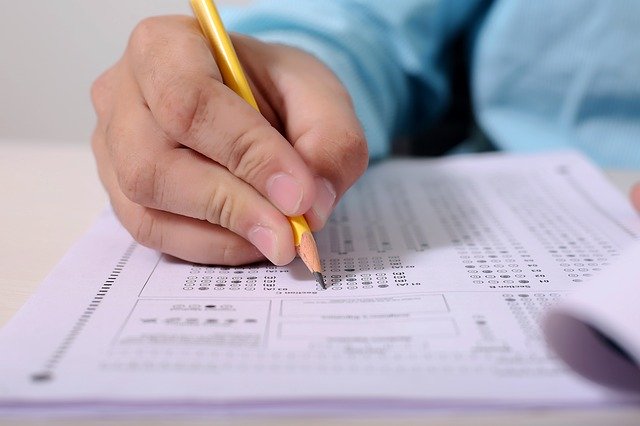 WHAT IS PTE?
PTE is an English Language Proficiency Test that assesses and tests the English speaking, reading, writing, and listening skills of non-native English speakers. This test is conducted and curated by the Pearson PLC Groups under the aegis of Pearson Language Tests. It was started in the year 2009 and has been a model of English proficiency assessment since then. This test is accepted by highly esteemed universities across the globe and is taken by thousands of study abroad aspirants each year.
REQUIREMENTS:
• The test is fully computerised, so the students need to have a basic knowledge of how to take an online test.
• The speaking module involves the use of headphones, and one has to be extremely careful since your answers shall be recorded for evaluation.
• The writing module involves giving answers to essay-type questions, hence, one must be accurate while writing and have a good typing speed.
• Time Management is key to acing time-based exams, hence, students must practise well in advance and keep a check on their time consumption for each module.
EXAM PATTERN:
PTE test is generally categorised into three types:
• PTE Academic - For students who wish to study abroad and also for immigration purpose
• PTE General - Non- academic purposes like PR
• PTE Young Learners - English proficiency evaluation for children
PTE exam is divided into three main segments: speaking & writing, reading and listening. It is a 180-minute long test, that is held at a recognized test centre and fully computer-based. Students also get a 10-minute break between reading and listening exam, which is not included in the total 180 minutes.
SECTION I: Speaking & Writing
Time Allotted: 77 - 93 minutes
SECTION II: Reading
Time Allotted: 32 - 41 minutes
SECTION III: Listening
Time Allotted: 45 - 57 minutes
TASKS:
WRITING
Students are given two major writing tasks:
1. Essay Writing: Students are required to complete an essay of over 200 - 300 words in a span of 20 minutes. You will have to manage time effectively in this task and come up with the best points to include in your write up. Students are required to produce an argumentative essay, with acceptable and valid points as the final outcome.
2. Summarizing a Text: This question can be challenging for a number of students. You are required to summarize a given text is not more than 75 words, within a span of 10 minutes.
LISTENING
There are a number of questions in the listening module, the questions are based on a series of audio and video clips. The main questions are:
1. Highlighting the correct summary from a paragraph : You will hear an audio and will have to highlight the text you hear from a paragraph.
2. Multiple Choice Questions : Select a single response after listening to an audio clip.
3. Select Missing Word: Listening to an audio and selecting the missing word to complete a sentence.
4. Highlighting incorrect words : Students will see the transcript of an audio on-screen, they will have to listen to the audio and highlight the incorrect words in the transcript provided while making accurate comparisons with the audio.
5. Dictation of a sentence: This is a basic task that involves listening to a sentence and typing it.
SPEAKING & READING
- Introduction: Students will have to briefly introduce themselves, with some details about your hobbies, education, interests and so on.
- Reading Aloud : You will be required to loudly read out a 60-word long text displayed on screen.
- Repeat the sentences you hear on a recording.
- Detailed Description of a chart displayed on the screen.
- Retelling a lecture: After carefully listening or watching a lecture, you will be expected to recite in it your own words.
- Short answer questions: Simple oral question and answer.
The PTE general test is classified into a total of 6 different levels:
Level Stage Writing Time Interview Time
A1 Level A1 75 minutes 5 minutes
A2 Level 1 95 minutes 5 minutes
B1 Level 2 95 minutes 7 minutes
B2 Level 3 120 minutes 7 minutes
C1 Level 4 150 minutes 8 minutes
C2 Level 5 175 minutes 8 minutes
EXAM FEE:
PTE Exam costs about US $175 or Rs. 13,300, but the cost keeps varying and is subject to change.
SCORING:
The scoring for PTE is done on a scale of 10 - 90, based on the proficiency levels of students. The scorecard is well detailed and presents a report of the candidate's score in each module. 79 considered to be the ideal minimum score for PTE, that can easily help you get into a good institution. Anywhere between 65-77 is considered a good score, and the candidate is considered highly competent. Any score above 77 is even better and paved the way for seeking admission to a prestigious institution.
The above-mentioned information includes everything you need to know about the PTE English test for applying to study abroad and how you should go about it.
---