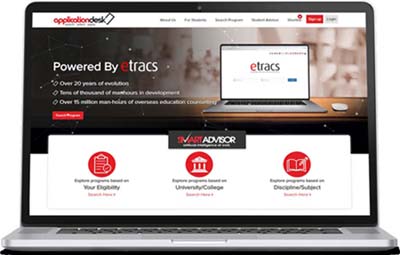 iApply: an Artificial Intelligence-based instructive application stage that is focused solely on providing the students the best suited academic institution as per their requirements.

We at iApply aspire to guide students and help them with every detail however major or trivial in order to achieve their dream international degree. With the assistance of our team of trained professional advisors, academic counselors and the artificial intelligence database we leave no stone unturned to find the best college for our students.
In the wake of this, iApply has further simplified the process for its users, outperforming twenty years of experience and success by developing: "ETRACS"
ETRACS short for Enterprise Tools and Resources for Advanced Customer Services , is an exclusive programming software tool that serves as a record keeper of student profiles, their applications, preferences, application status and more.
This software eases out the tedious process of managing multiple details while a student applies for higher education abroad.
From its ideation and development to its implementation and utilization our experts have put in their creative and academic best towards ETRACS.
Our expert professionals have a full-fledged record of every student and hence the students can leave it up to us to look into the technicalities of their admission process and we will keep them updated as well as request them to produce the required paperwork when necessary.
The application process can be befuddling as well as daunting but you need not panic we're here to help you! The due dates, application paperwork, application expenses, instructive reports, SOPs, LORs and other important issues need to be addressed on time and with precision.
Once we have carefully considered your choices and shortlisted a select few universities matching your profile we then discuss with you about your preferences, complete your application process and even communicate with the institution on your behalf. Once our student has received the formal letter of acceptance from the desired college/university, we even help you out with managing the finances, depositing your fee and visa applications where our Visa Guidance Officer and his team will guide the student at every step.
It is due to this dedication and unhinged spirit that our team at iApply has managed to guide, research and process over 40,000 plus student applications!